Kick-Start Your Way to a Healthy Diet With Our Recipes
Ingredients:
½ cup Lupin Flour
4oz butter
¾ cup sugar
1 egg
½ tsp vanilla
1 cup self-raising flour
Handful choc bits
Handful chopped pecans
Method:
Beat together butter and sugar, add vanilla then egg and combine well. Add ½ of the SR flour then choc bits and pecans. Add lupin flour and rest of SR flour. If too moist add more SR flour. Roll into balls and press with flour dipped in lupin flour. Cook in moderate oven until golden brown. Keeps and freezes well.
Makes 15 slices (1 per serving)
Here's a quartet of Healthy grains - Sorghum, lupin, cornmeal and quinoa - Combined in a soft-Textured, nutritious Loaf that's perfect for Sandwiches.
NUTRITIONAL VALUE:
per serving
| Item | Value |
| --- | --- |
| Calories | 135 |
| Fat, total | 3 g |
| Fat, saturated | 0 g |
| Cholesterol | 25 mg |
| Sodium | 248 mg |
| Carbohydrate | 23 g |
| Fiber | 2 g |
| Protein | 4 g |
| Calcium | 20 mg |
| Iron | 2 mg |
Tip:
Substitute ¼ cup (50 mL) liquid egg white for the egg whites and ½ cup (125 mL) liquid eggs for the whole egg.
1 cup sorghum 250 mL
⅔ cup lupin flour 150 mL
½ cup cornmeal 125 mL
¼ cup quinoa flour 50 mL
⅓ cup tapioca starch 75 mL
⅓ cup packed brown sugar 75 mL
1 tbsp instant yeast 15 mL
1 ½ tsp salt 7 mL
2 eggs 2
1 egg white 1
1 cup water 250 mL
2 tbsp vegetable oil 25 mL
1 tsp cider vinegar 5 mL
Method:
In a large bowl or plastic bag, combine sorghum flour, lupin flour, cornmeal, quinoa flour, tapioca starch, brown sugar, yeast and salt. Mix well and set aside.
In a separate bowl, using heavy-duty electric mixer with paddle attachment, combine eggs, egg white, water, oil and vinegar until well blended. With the mixer on its lowest speed, slowly add the dry ingredients until combined. Stop the machine and scrape the bottom and sides of the bowl with a rubber spatula. With the mixer on medium speed, beat for 4 minutes.
Spoon into prepared pan. Let rise, uncovered, in a warm, draft-free place for 60 to 75 minutes, or until dough has risen to the top of the pan. Meanwhile, preheat oven to 350ºF (180 ºC).
Bake for 35 to 45 minutes, or until loaf sounds hollow when tapped on the bottom. Remove from the pan immediately and let cool completely on a rack.
To make this recipe egg-free:
Omit eggs and egg white from the recipe. Combine ⅓ cup (75 mL) flax flour or ground flaxseed with an additional ½ cup (125 mL) warm water. Set aside for 5 minutes. Add with the liquids. You may need to increase the baking time by 5 to 10 minutes.
These crepes are the creation of Chef Tom Grey, executive chef and managing partner of Bistro Aix in Jacksonville, Fl, modified using lupin flour.
Ingredients:
3 Eggs
10 oz. Whole Milk
1 oz. Melted Butter
2 oz. Lupin Flour
2 oz. Amaranth Flour
½ t. Sea Salt
2 t. Chives
pinch Baking Powder
Preparation:
1. Combine all dry ingredients in a small bowl.
2. In a separate bowl, whisk eggs and milk together.
3. Sift all dry ingredients into egg and milk mixture and whisk until smooth.
4. Stir in melted butter and chives.
5. Preheat an 8" non-stick frying pan or crêpe pan sprayed with non-stick spray.
6. Ladle in approximately 1 oz. of crêpe batter and cook until bubbles appear.
7. Flip and cook on other side until set.
8. Can be made ahead up to one day before serving.
Makes:
4 – 6 as an appetizer
Ingredients:
Makes 2 ½ cups
¾ cup strawberry banana low-fat yogurt
1/3 cup banana (Ripe)
13 cubes Ice approximately 1 cup
½ cup frozen strawberries
1 tsp lemon juice
1/8 cup lupin flour
Put in all ingredients in a blender and puree until smooth. Pour into two glasses and enjoy. Makes 2 servings.
Preparation:
For an added nutrient boost, you can substitute regular frozen yogurt for a frozen yogurt with one that contains added probiotic cultures. Look for "live cultures" or "active cultures" on the container, which indicate a reasonable source of these beneficial bacteria.
Nutritional Information:
Nutrition per serving:
159 calories
2g fat (1g sat., 0g mono.)
4mg cholesterol
81mg sodium
31g carb.
2g fiber
5g protein
Total sugars 23g
Ingredients:
150g Lupin Flour
150g self-raising flour
3 tsp bi-carbonate soda
3 tsp cinnamon
4 eggs
4 tbsp cooking oil
1/2 cup Splenda
3/4 cup buttermilk or soured skim milk
1 cup grated carrot
1 cup grated apple
1 cup crushed pineapple
3 tbsp coconut
1/2 cup walnuts
Topping
200g ricotta
2 tsp cinnamon
Method:
Sift dry ingredients together
In a small bowl mix wet ingredients
Add the dry to wet ingredients
Add remaining ingredients and gently mix all together
Cook in springform tin
Line with baking paper and spray sides
Bake for 30-40 minutes at 180ºC
Topping
Blend ingredients and spread over cake
Ingredients:
1 cup - Lupina Lupin Flour
1 cup - whole wheat flour (or gluten-free sorghum flour)
¼ cup - coconut oil
¼ cup - olive oil
sea salt - to taste
water
Method:
Mix all the dry ingredients first, use a sifter maybe.
Add olive oil.
Add water and knead into a soft pliable dough
(you can vary the oil and water to change the consistency of the dough)
Divide the dough into equal-sized, small balls.
Roll each ball with flat palms.
Place the ball between oiled parchment papers.
Use a rolling pin to flatten the dough ball
(not so flat that you cannot peel it off the parchment paper)
Peel it off the parchment paper and put it on a preheated griddle.
(Make sure to avoid high heat, medium or low heat are preferred)
Cook on one side and then flip it to cook the other.
Use butter, coconut oil or Ghee on both sides before serving.
These are soft sweet tasting flatbreads that can be rolled into wraps or tortillas too.
Note:
Replace the whole wheat flour with sorghum, millet or buckwheat flour to make this recipe gluten-free.
Lupina, LLC - www.lupinausa.com
Ingredients:
1c. Almond Flour
⅓ c. Lupin Flour
¼ t. Salt
2 eggs
½ c. Sour Cream
4T. Melted Butter
½ c. Freshly grated Parmesan
Direction:
Preheat oven to 400.
Mix dry ingredients in a large bowl.
Mix wet ingredients in a medium bowl.
Pour wet ingredients into dry an stir to combine.
Fold in grated Parmesan.
Spray a muffin top pan with cooking spray and spray two spoons.
Using the spoons to distribute batter into 10 wells.
Bake for 8 minutes or until tops just start to brown a little.
Place on a cooling rack and cool completely.
Brush the top with melted butter.
You can use any cheese, but parmesan to keep them neutral.
If you don't have a muffin top pan you can just spoon these onto a greased baking sheet.
To freeze - wrap 2 biscuits in a paper towel and freeze them in a zip-lock bag.
To reheat in a microwave, place the 2 biscuits (still in their paper towel) in the microwave for 25 second - turn the bundle over and microwave another 25 seconds.
Makes:
10 biscuits
Ingredients:
1½ cups Lupin Flour
1 tsp baking powder
1 tsp bi-carbonate soda
1 tsp cinnamon
pinch of salt
1 cup sugar
⅔ cup oil
1 cup grated carrot
2 eggs beaten
½ cup chopped pecan nuts
Method:
Mix sugar, oil and eggs then sifted flour and combine with remaining ingredients
Bake in loaf tin in moderate oven 40-50 minutes
Lupin tempeh is highly touted, and apparently one of the most promising possibilities for expanding the presence of lupins in the human food supply. Tempe (or "tempeh", if you prefer the crude anglicization) is made by growing fungus, usually Rhizopus oligosporus (sometimes also with Rhizopus orzae and other minor components) on beans (usually soybeans). Tempeh is a traditional food in Indonesia and is recently becoming popular in Europe and North America. Having made soybean tempeh several times and it's turned out well, so I was excited to try to make lupin tempeh. Differences between soy and lupin that may make the process different are that lupins are tougher (more fiber, less oil) than soybeans.
"The Book of Tempeh" gives a simple recipe for lupin tempeh: "The dehulled Sweet Lupin Splits are simply for 12 hours in excess water, boiled for 30 minutes in the same water, then drained cooled, inoculated and incubated at 86 F (30 C) for 20 to 24 hours"
An essential ingredient in making tempeh is the starter culture, the fungus spores that you inoculate the beans with. Here are all of the sources I know of for Tempe started: Tempeh Starter Shop, Cultures for Health, organic-cultures, tempeh.info, Top Cultures, tempehstarter.com, sometimes it's also possible to find it on e-bay. GEM cultures list it on their website, but seem to be perpetually out of stock (which is a real shame because they seem to be the only source on the US West Coast). The only place I've ever bought starter from, was tempehstarter.com, theirs is a mix of R. oligosporus and R. oryzae, and ships from Indonesia. I ordered from them because gram for gram (and including shipping), they are cheaper than any of the other places (however, it may be that some of the other sources sell a more concentrated mix, I don't know).
Another essential aspect is incubation temperature. Which should be around 30-35 C. Some people build special incubators for this. I've found that if I just leave my oven light on, the oven warms to approximately the right temperature. Eventually the tempeh will start releasing heat, from the active metabolism of the fungus digesting the beans. So if the oven gets too hot, I move the tempeh to the corner of the oven furthest away from the light.
The Rhizopus grows best at low pH, apparently this is traditionally achieved by an initial bacterial fermentation (by bacteria that are found naturally in the water in Indonesia). Low pH can also be achieved by adding vinegar (which is what I do, and you probably should too).
The Rhizopus are aerobes. That means they need oxygen to thrive. However, they also need humidity. The need for oxygen means you shouldn't pile the beans too deep I think about 2-3 cm deep is ideal, but for sure don't go any deeper than 5 cm. If you have a nice tempeh incubator, you shouldn't have to worry too much about humidity. People like me, with more makeshift arrangements, can cover the tempeh with plastic wrap and cut some slits in the plastic wrap (which is what I do), or grow the tempe in plastic sandwich bags and punch holes in the sandwich bag (which is what I've seen on quite a few other blogs).
Lupin Tempeh:
Soak seeds 3 days
Drain and keep covered at room temperature for 24 hours to sprout
Boil for 30 minutes
Drain the hot water, add some cold water and manually de-hull the beans
Drain, put on the stove briefly, just to boil off any excess water (without drying out the beans)
Put beans into a 9 x 5 bread pan
Mix in 1 tsp white vinegar
Mix in 1 tsp starter
Cover with plastic wrap, but cut vents in the wrap.
Incubate for 24 to 36 hours at about 32 C (I achieve this by keeping the light on in my oven)

After 24 hours it looked (and tasted) pretty good (see pictures below), but I decided to give it another 8-12 hours. I generally take it out of the incubator right about when the first gray/black tufts start appearing, and when a faint ammonia smell is present. After 24 hours, neither of these signs were present, so I let it go a bit longer. After 35 hours, those signs still weren't present but I stopped the incubation anyways.

Remove from incubator and either freeze, or cook
After 35 hours in the incubator, I removed the tempeh cut it into strips, and pan-fried it at medium heat in grape seed oil. The taste is pretty similar to soy tempe I think. Lupin tempe has a bit coarser texture, and there are definitely distinct lupin undertones to the taste, but they aren't overpowering at all. I like it. I will definitely make it again. And the point is proved: you can make lupin tempeh at home using pretty much the same process as for soy tempeh!
Edit: I gave some to a real genuine Indonesian and she said, "It's ok. Kind of bitter. I like soy tempeh better. Did you de-hull it by hand, because I think you missed some, it's a little crunchy." If that's not a ringing endorsement, I don't know what is.
In the future:
I will always use dehulled lupin Splits. Lupina LLC sells dehulled lupins suitable for making tempeh. As it is, it's almost impossible to even find de-hulled soybeans. Michael from Lupina LLC told me Australian dehulled lupin splits are best suited for making tempeh.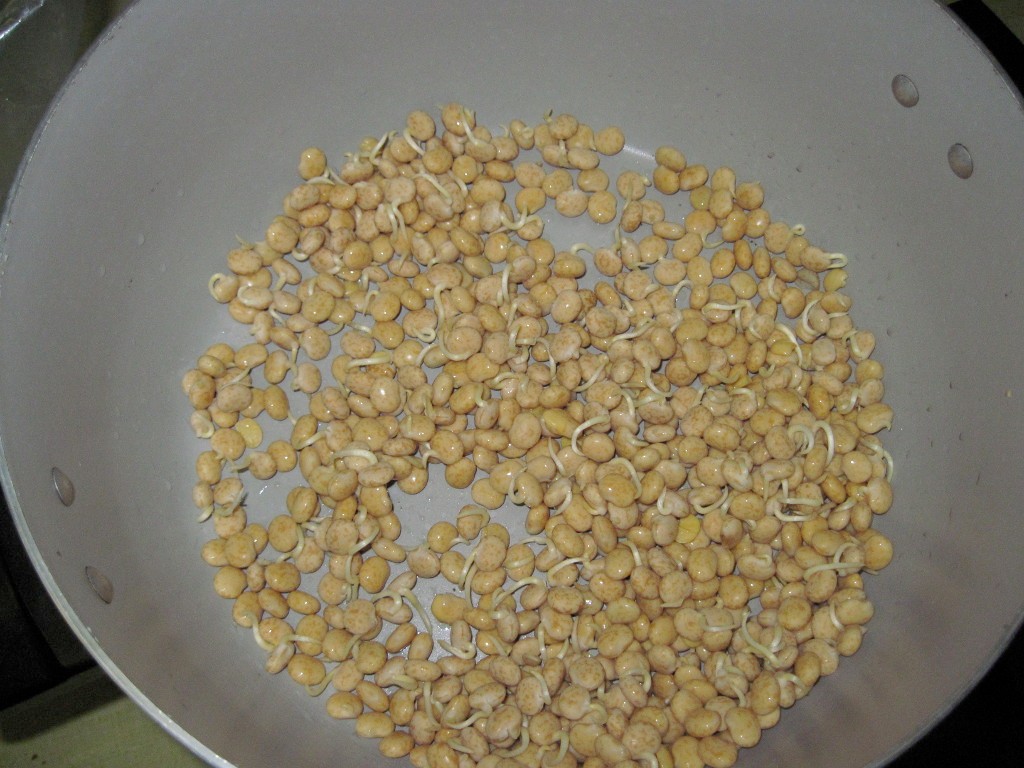 After 24 hours of sprouting. These guys grow quick!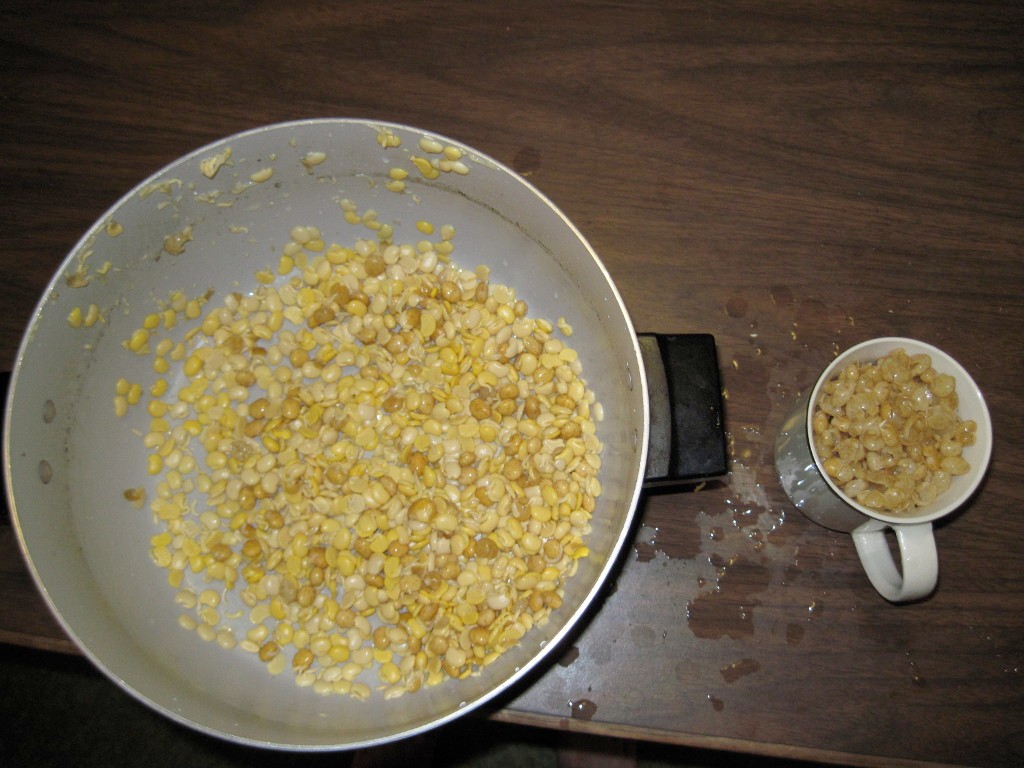 Lupins after sprouting and boiling.
Inoculated, vinegared, covered in plastic wrap with slits cut, and ready to incubate!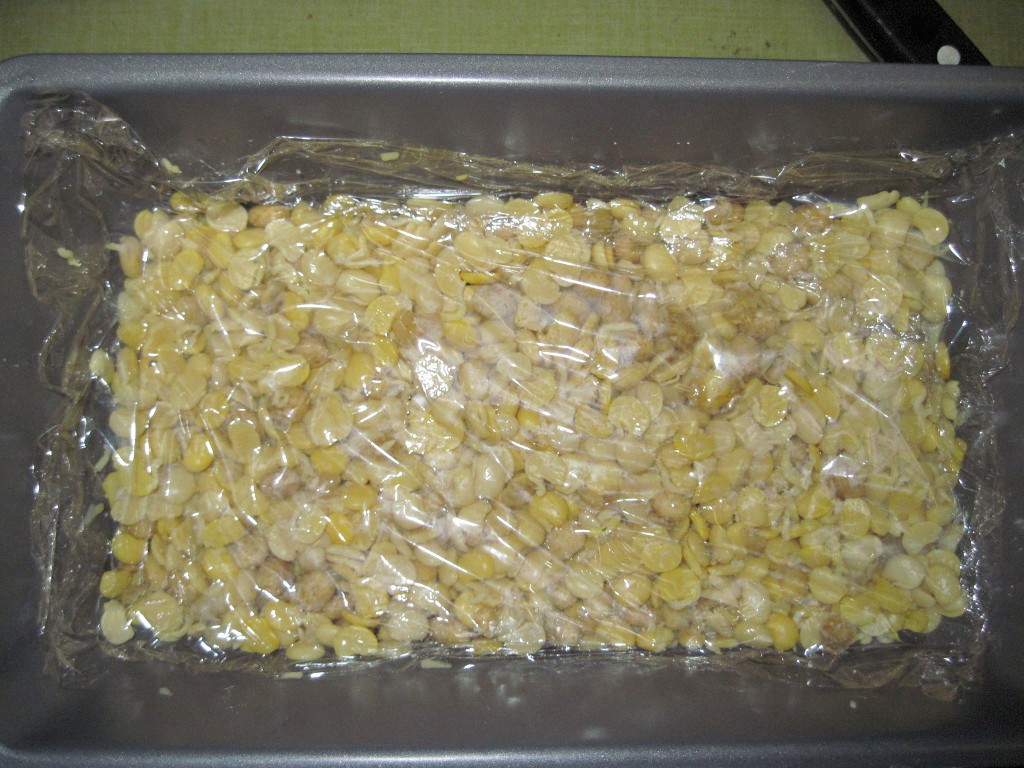 After incubating 24 hours.
Pan fried piece of 24 hour tempeh.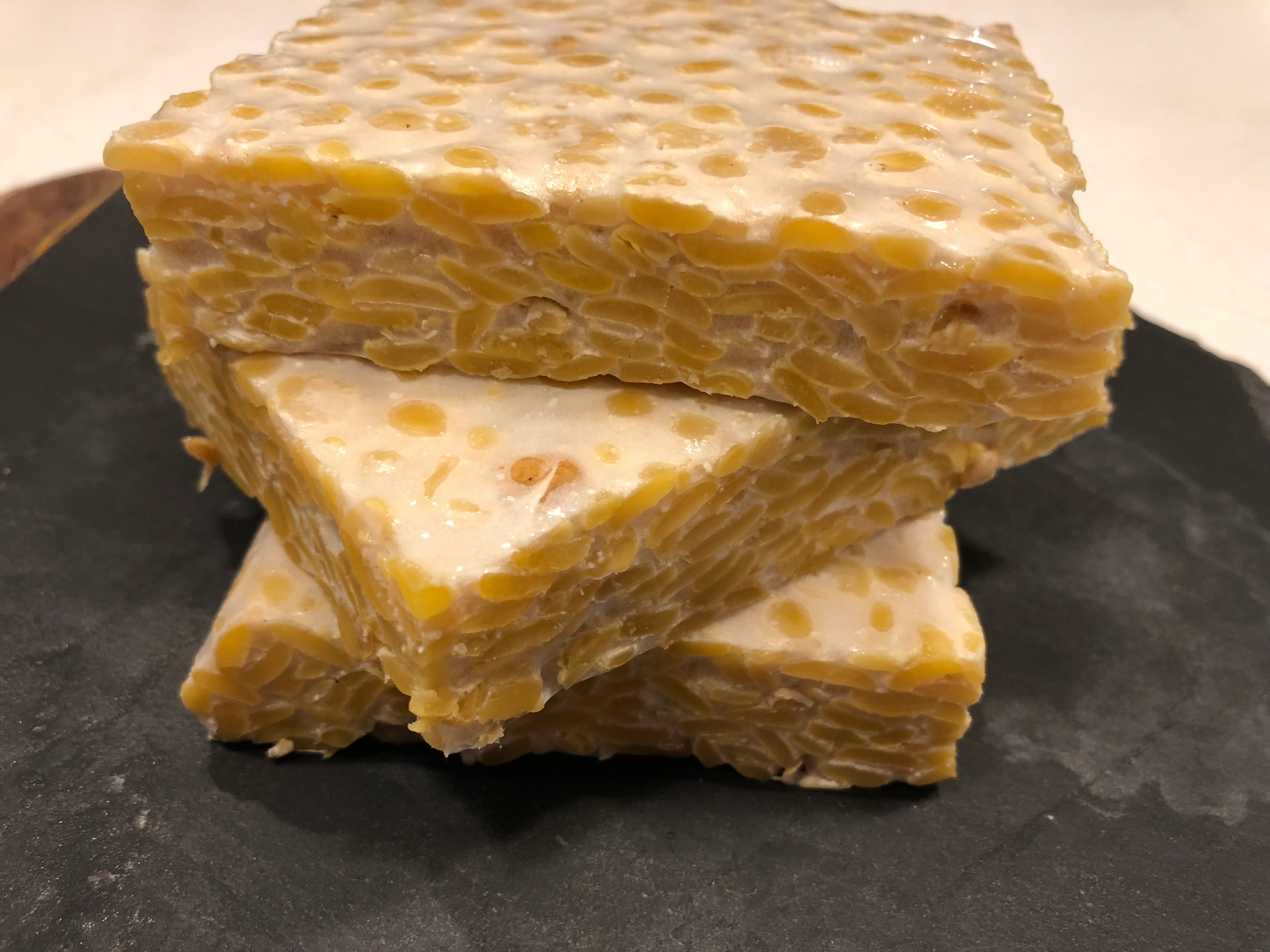 Tempeh after incubating for 35 hours.
Cross-section of 35-hour lupin tempeh.
Ingredients:
1 large egg
3 medium bananas
1/2 cup peanut butter, smooth
2 tbsp peanut oil, salad or cooking
1 1/2 cup whole wheat flour
1/4 cup honey
1 1/2 tsp baking powder
3/4 tsp baking soda
1/8 tsp salt, table
1/2 cup multigrain cereal
1/2 cup prune puree
1/2 cup unsalted, dry roasted peanuts
2 tbsp lupin flour
1 tsp cinnamon, ground
Preparation:
Preheat oven to 350 degrees. Coat muffin tins with non-stick cooking spray or use muffin tin liners. In a large bowl, mix together honey, egg, mashed bananas, peanut butter, peanut oil, lupin flour and prune puree. In a separate bowl, mix together whole wheat flour, baking powder, baking soda, salt and multigrain cereal. Add the wet ingredients to the dry ingredients and mix until almost completely combined. Add peanuts and fold in. Using an ice cream scoop, divide the batter between 12 muffin tins. Bake for approximately 20 minutes or until a toothpick inserted in the middle comes out clean.
Nutritional Information:
Serving Size:
1 serving (92.4g)
Calories 270
Calories from Fat 100
Total Fat 12g
Saturated Fat 2g
Trans Fat 0g
Cholesterol 15mg
Sodium 230mg
Total Carbohydrate 38g
Dietary Fiber 5g
Sugars 15g
Protein 8g
Makes:
12
Lupin flour is a wonderful product to add protein to bars, smoothies and soups! This low-fat, high protein, gluten-free, non-GMO flour is available at select supermarkets and online. For locations near you, visit www.lopino.com
Ingredients:
1 Tbsp peanut oil
2 cups onion, peeled, diced
1½ Tbsp ginger, chopped
½-1 jalapeno pepper
3 cups sweet potato, peeled, diced
½ cup lupin flour
1½ quart vegetable stock
1 Tbsp brown sugar
1 Tbsp roasted peanuts, chopped
Salt and pepper, to taste
Preparation:
Heat the oil in a large saucepan over medium-high heat. Add onion, ginger and jalapeno, saute 2 minutes until translucent. Add the sweet potato, cook for 15 minutes, add lupin flour, stir to coat.
Add the vegetable stock and bring to a simmer. Simmer 30 minutes or until the vegetables are tender.
Transfer the vegetables to a blender and puree until smooth. Strain if desired. Adjust the seasoning with brown sugar, salt and pepper.
Garnish with toasted peanuts.
Nutritional Information:
Calories 198 (31% from fat)
Fat 7g (Sat 1g, Mono 4g, Poly 1.5g)
Protein 8g
Carb 26g
Fiber 3g
Cholesterol 6mg
Calcium 48mg
Makes:
2 quarts
Recipe developed by The Culinary Institute of America; modified using lupin flour.
As seen in Southern Living magazine, modified using lupin flour.
Gluten-free lupin flour boasts more than twice the energy-boosting protein of all-purpose white wheat flour, along with a pleasingly nutty flavor profile. No wonder more and more chefs are incorporating it into both new and old favorite recipes, like the one below.
Ingredients:
1¼ cups packed light brown sugar
1 cup all-natural peanut butter (creamy or chunky)
2 large eggs
1 cup lupin flour
¼ cup chopped roasted peanuts
1 teaspoon baking soda
1 teaspoon pure vanilla extract
1/8 teaspoon salt
Nutritional Information:
Serving size 1 cookie:
110 calories
6g total fat
1g saturated fat
0g trans fat
15mg cholesterol
100mg sodium
12g carb
1g fiber
10g sugar
5g protein
Preparation:
Preheat the oven to 350. In a medium bowl, beat together brown sugar and peanut butter with a wooden spoon. Beat in 1 egg at a time, mixing well after each addition. Mix in lupin flour, peanuts, baking soda, vanilla and salt.
Roll dough into 1½-inch balls. Place balls two inches apart on a cookie or baking sheet lined with parchment paper or foil. Use a fork to make criss-cross marks on tops of cookies and to flatten to about ½-inch thickness. Bake 10 minutes or until cookies are just set. Transfer cookies (still on parchment or foil) to a wire rack; cool completely. (Cookies will firm up upon baking.)
Optional add-ins:
If desired, stir ½ cup semisweet or bittersweet chocolate chips, and/or golden raisins or dried cranberries into the dough.
Makes:
Makes 30 cookies
Preparation Time:
15 minutes
Cooking Time:
40 minutes
Ingredients:
1 cup Lopino® Lupin Flour
½ tsp ground cinnamon
½ cup almond meal
½ cup firmly packed brown sugar
3oz (90g) butter, melted
1½ cup slivered almonds
Topping:
3 eggs, lightly beaten
¼ cup firmly packed brown sugar
¼ cup honey
3.5oz (100g) milk chocolate melts, melted
Method:
Preheat oven to medium
Grease/Line a 8 x 12 inch (20cm x 30cm) tin cooking sheet
Combine flour, cinnamon, almond meal, sugar and butter in a bowl.
Press evenly into prepared pan. Bake in a medium oven for 12 minutes or until lightly browned. Cool.
Reduce oven temperature to medium low.
Pour topping over base, sprinkle with slivered almonds.
Bake in oven for approximately 40 minutes or until topping is set.
Cool in pan.
Refrigerate before cutting and store in refrigerator.
Topping:
Combine egg, sugar and honey in bowl, stir in chocolate melts.
Notes & tips:
This recipe can be made a week ahead and stored covered in the refrigerator.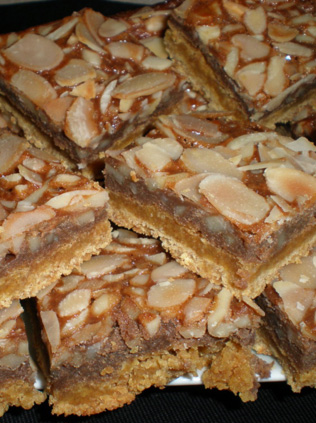 The Greeks are fond of their crescent moons, but being an Australian-made variation, we like to think of them more as boomerangs! These are decadently sweet and melt-in-your-mouth short in texture. Just try stopping at one!
Preparation Time: 30 minutes
Cooking Time: 10-15 minutes
Ingredients:
250g unsalted butter softened
1⁄2 cup pure icing sugar
1 free-range egg yolk
3⁄4 cup blanched, slivered almonds
1⁄2 fl.oz (15mL) ouzo (plus extra for topping)
Flour mix (200g (1⁄2 lb) gluten-free plain flour & 100g
(1⁄4 lb) Lupina, LLC Lupin Flour
Method:
Toast almonds under griller until light golden brown. Allow to cool.
Preheat oven to 356°F(conventional heat).
Cream butter & sugar until white in color.
Add egg yolks & mix well.
Stir in almonds & ouzo.
Fold in 2/3 of the flour mix. Continue to add flour only until mixture forms a slightly sticky dough.
Roll out dough on lightly floured countertop into strips approx. 3 inch wide.
Using a suitably sized glass or small bowl, cut strips into crescent-shaped pieces.
Place on a baking tray (lightly greased or use baking paper).
Bake until pale golden brown.
While still hot, sprinkle liberally with extra rosewater, then dust with icing sugar.
When cool, store in an airtight container, covering with extra icing sugar. Stays fresh for up to 4 weeks.
Notes & tips:
Sprinkle with rosewater.
To make a quick and easy sprinkler for rosewater, punch several holes in the plastic lid of a small jar with a kitchen skewer.